RSPO Certification
Promotion of sustainable cultivation methods
It's part of the tradition of MEGGLE's Business Unit Food Ingredients to take responsibility about the environment and society. With future generations in mind, our major decisions take into account the long-term effect of profitability, use of resources and the environment. Therefore it's very important for our company to secure the RSPO certification.
RSPO means "Roundtable of Sustainable Palm Oil" and was established in 2004 of the environmental organization WWF. As a central organization, the RSPO had the goal to promote sustainable cultivation methods of palm oil in order to reduce the damage to the environment. In this way the RSPO defined a concept where farmers, trading and producing companies commit to comply and implement sustainable and environmentally friendly principles.
These  include, among other things, the protection of endangered animals and plant species, the responsibility towards the environment, the perseveration of natural resources, the rejection of child labour as well as the promotion of small farmers. The RSPO has currently a share of 19% of the global palm oil production, has got 2,9 Million hectares of certificated palm oil acreage and 4335 members (status: 2019).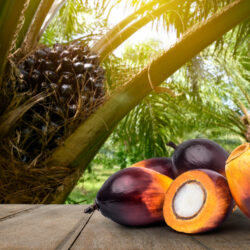 OUR CONTRIBUTION TO THE PROTECTION OF THE ENVIRONMENT
MEGGLE has also been part of the RSPO since 2012 and can already offer the certificated palm oil in the whole palm oil consisting product range. We offer the palm oil in MB and SG quality. The difference between MB and SG depends on the supply chain. Mass Balance (MB) means the mix of sustainable palm oil from certificated sources with conventional palm oil in the supply chain and Segregated (SG) strictly separates sustainable quality from the conventional palm oil along the whole supply chain.
Are you looking for the right product in RSPO quality?
Then use our Product Finder or contact us!