Excellent results with our Fondolac® SL H
in Dips, Creams and More
Our product offers you excellent functional properties for emulsifying, stabilizing and rounding off the taste of savory products such as creams and spreads. By spray-drying delactosed whey, we produce a delactosed whey powder with a comparatively high protein content. This is what makes our Fondolac® SL H so special.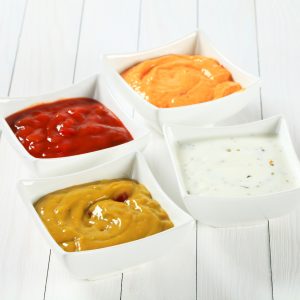 Characteristics:
☘️ High Emulsifier Capacity
☘️ Water Management
☘️ Process Stabilization
☘️ Heat Stable
☘️ Acid Stable
☘️ High Solubility
☘️ Clean Label
☘️ Taste Booster
☘️ Sodium Reduction
☘️ Protein enrichment
☘️ High mineral content
☘️ Improved Texture and Mouthfeel
Application in creams & spreads
☘️ Creams with a texture like Mayonnaise
☘️ Dressings
☘️ Salad Creams
☘️ Cocktail sauces
☘️ Dips
Convince yourself of the simple handling
In a short application video, we have illustrated the simple production of a creamy dip with our Fondolac® SL H. With the help of conventional kitchen equipment, the cream quickly acquires a consistency like mayonnaise.
Process
Solve 5% Fondolac® SL in 35% water (20 °C)
Add 60 % neutral vegetable oil (rap seed, sun flower) and emulsify the liquid with a high shear mixer
Heat up the emulsion to >70-80 °C for optimal functionality
Mix in dry components like salt, herbs, spices, vinegar powder,…
Cool down the creamy dip & fill in packaging
Feel free to contact us for a sample.
Any more questions?
Give us a call or send a message